Surrounding Area
From National Route 292 (Olympic Road / Shiga-Kusatsu Kogen Route), turn off to the left at bend number 20. After a short while you will see Lake Biwa on the right. Soon after, turn left again at the fork in the road. Keep going for about 1km after this and you will arrive at our car park.
*Important! Please note that during the winter season (usually from mid-November to mid-April), the Shiga-Kusatsu Kogen Route between Kusatsu and Shiga Kogen (Yozaka) is closed due to large amounts of snowfall.
Guests Coming By Car

If coming by car, please note that the roads may be icy or snow-covered, especially between November and May. Please be sure to use snow tires or chains.
Car Parking
There is a large parking lot at the end of the road, about 1 - 2 minutes on foot from the hotel, for guests to use (free of charge). In winter, we also have sleds available for transporting your luggage more easily.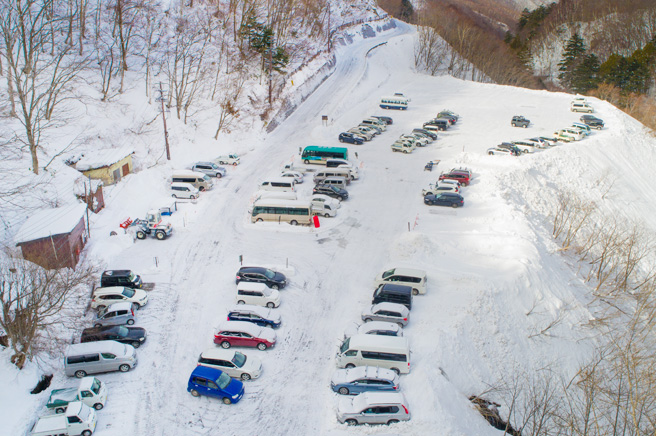 Guests Coming By Train

Shuttle Bus Service
For guests coming by bus, we offer a pick-up service between the hotel and "Shiga Kogen Yama no eki" Bus Stop.
Advance bookings are required, so if you would like to use the service, please be sure to inform us of your requested pick-up time when making your reservation.
In winter, please use the Pulse Gondola until 16:30. After 16:30 ・We will pick you up in the summer, so please contact us.
When you arrive at "Shiga Kogen Yama no eki" bus stop, please tell your name and hotel name at the Bus Office.
※ If it is after 18 o'clock, please call +81 269 - 34 - 3700 directly.
Access from Narita Airport
By Shinkansen (bullet train)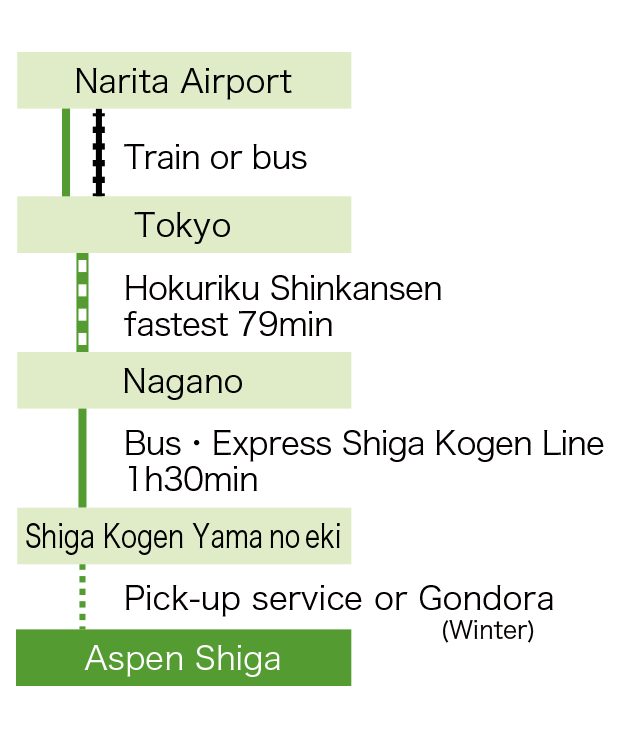 Proceed to Tokyo Station, from where you can take the Shinkansen to Nagano Station. From Nagano station, take the Shiga Kogen Express Line bus (operated by Nagaden Bus) and get off at "Shiga Kogen Yama no eki" Bus Stop. From here you can use our shuttle bus pick-up service (advance reservations required).
By Bus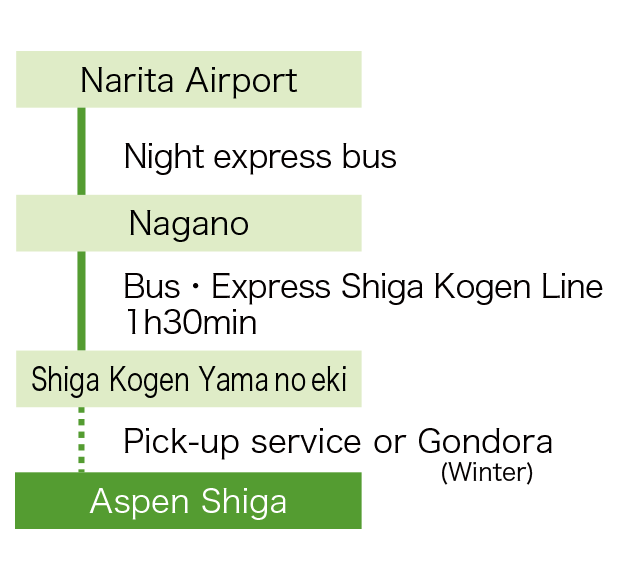 Take the overnight bus from Narita Airport to Nagano Station. The bus arrives very early in the morning at Nagano Station, so please be sure to wrap up warm in winter.
By Taxi
It is possible to book a shared mini-van taxi that will take you directly from the airport to the hotel (advance reservations required).