Dinner made from Seasonal Ingredients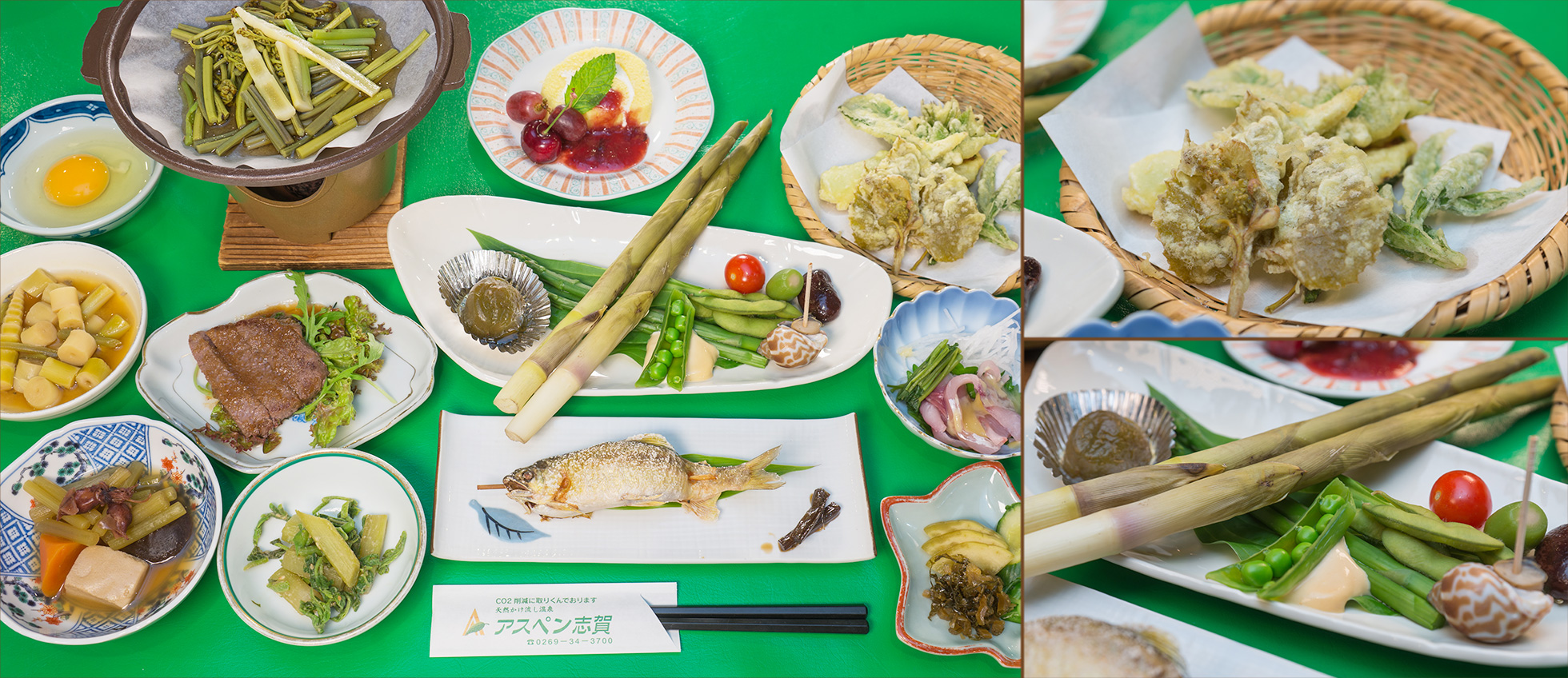 We serve dishes that use a variety of both home-grown and locally-grown ingredients, including high-quality rice and seasonal vegetables. Guests can enjoy a taste of the different seasons of Shiga Kogen.
During the winter season, we offer a dinner buffet that incorporates Japanese, Chinese and Western style dishes. We use a variety of vegetables, sourced locally from the surrounding countryside, in order to produce home-made dishes that are both tasty and healthy. Our home-made bread, pastries, and apple pies (winter only), are also extremely popular!
*Menu may change depending on the season and availability of ingredients. The picture is a sample of the type of dishes served.
Home-grown & Locally Procured Ingredients
We strive to use home-grown ingredients as much as possible. To this end, we cultivate our own high-grade rice, as well as a variety of vegetables such as potatoes and radishes. For other ingredients, we try to use items that are locally produced. In order to bring out the fullest flavor from these ingredients, we endeavor to make our own dishes in-house.
The Gifts of the Mountain
At Shiga Kogen, a variety of mountain vegetables are in season from May to the beginning of July. One of the most popular local vegetables are wild bamboo shoots (called "nemagaritake"), which are harvested from June through July, while in autumn one can pick a variety of edible wild mushrooms.
These wild vegetables and mushrooms are harvested, and then cooked in traditional ways to bring out their fullest flavor. We invite you to try them during your stay.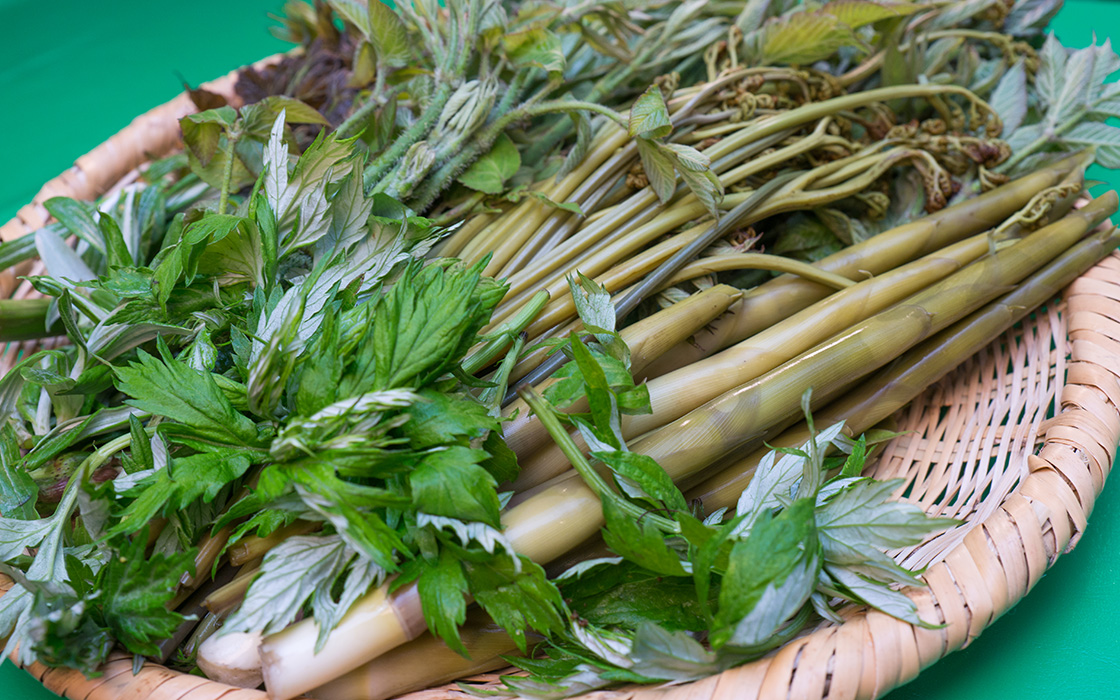 Enjoy Freshly Cooked Bread at Breakfast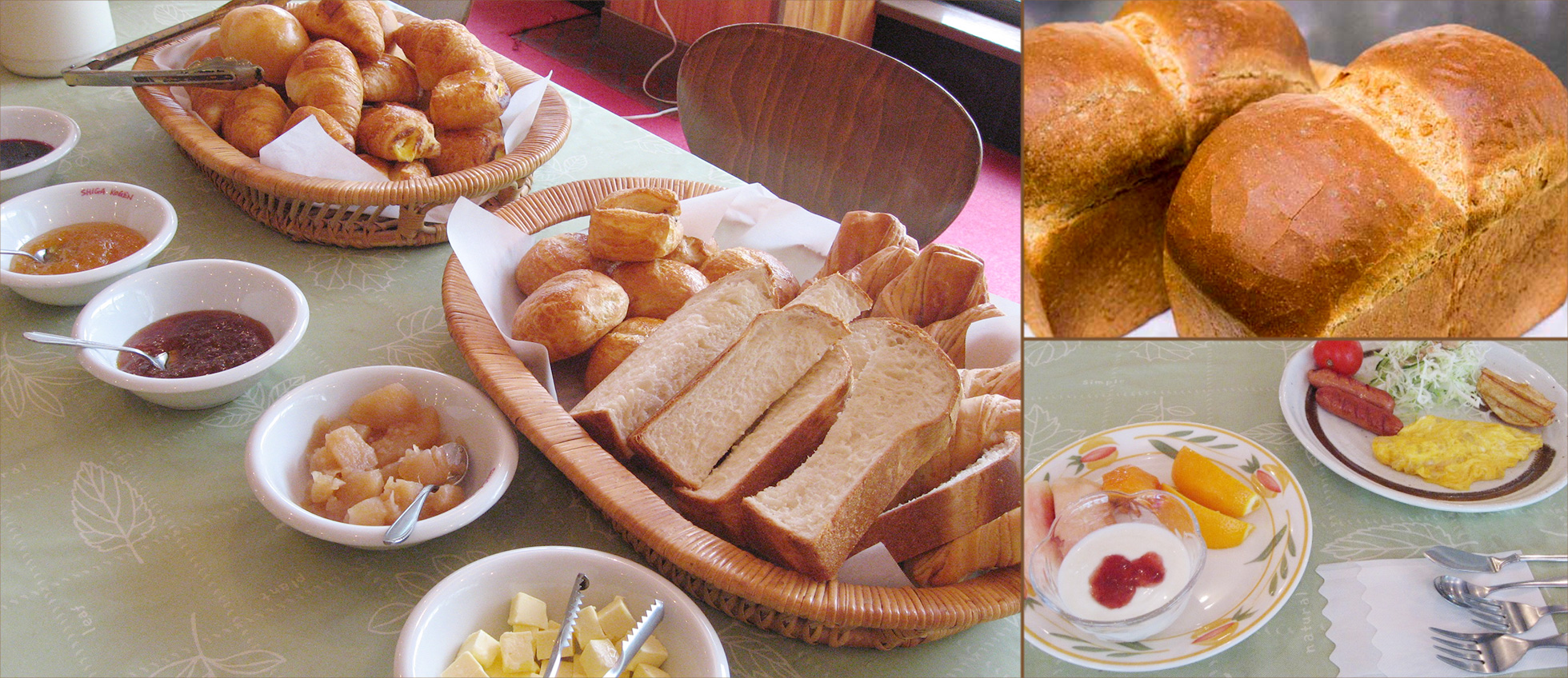 Our home-made bread, straight from the oven, has been a long-standing favorite with our guests. The whole cooking process, from kneading the dough to baking, is carried out on-site. Our home-made jam is also a popular accompaniment.
Restaurant Aspen (open in winter only)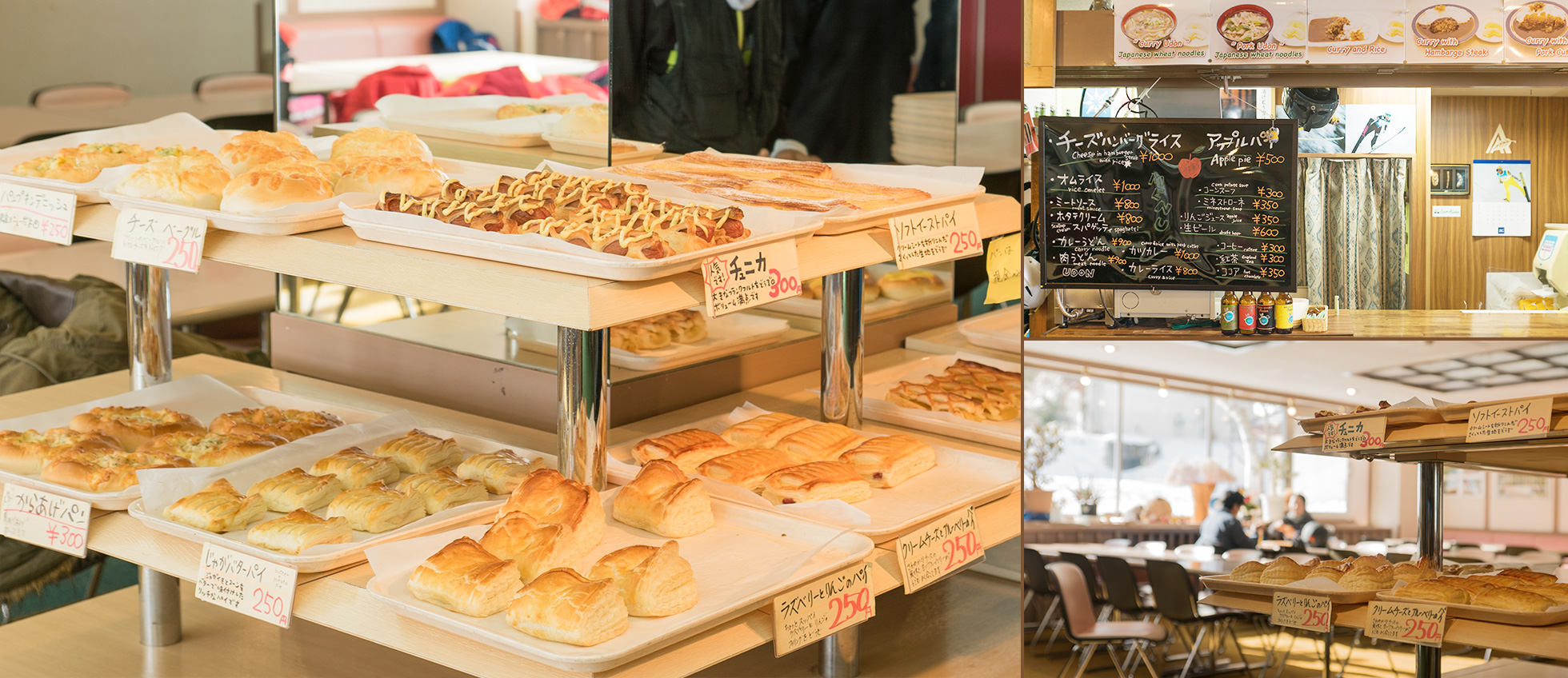 Located on the 1st floor and facing out over the slopes of the Giant Ski Resort, the restaurant makes for an ideal rest spot during a day on the slopes. We serve a variety of freshly cooked breads and pastries, as well as our supremely popular home-made apple pie (a must try!).
For lunch, we also offer a full menu to choose from, including traditional Japanese favorites such as Omurice (rice omelette) and Cheese Hamburg (rissole). Please stop by and enjoy a snack or lunch!
Hours: 11:30am - 3:00pm